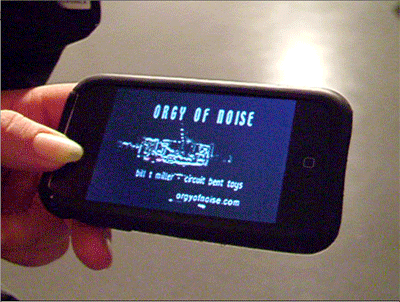 CLICK for tons of vidz for your iPhone via BTM TELEVISION at YouTube
.
* iPhone courtesy of CROW at BOSFCPUG meeting. THANX.
Do have an iPhone???? Check out vids by my "bands" - Orgy Of Noise, Out of Band Experience (OBE), Kings Of Feedback, King Of Slack. Plus, BTM TV webcam broadcasts from my studio and course the legendary TIPPI CAT.
The rest are mostly live show videos that I have made by bands like: Neptune, Peter Zebra, Axemunkee, Crank Sturgeon, Count Zero, Death of the Cool, Mission Of Burma, Noosebomb, Mr. Butch, Ed "Moose" Savage, Thurston Moore, Jessica Rylan, Bootsy Collins, Turkish Queen, Animal Hospital, Agathe Max, Zoig-Ma-Noig, Dresden Dolls, Amanda Palmer, Brian Viglione, keith fullerton whitman, Nine Inch Nails (BTM Remix) and The Fountain (BTM Remix) and more.